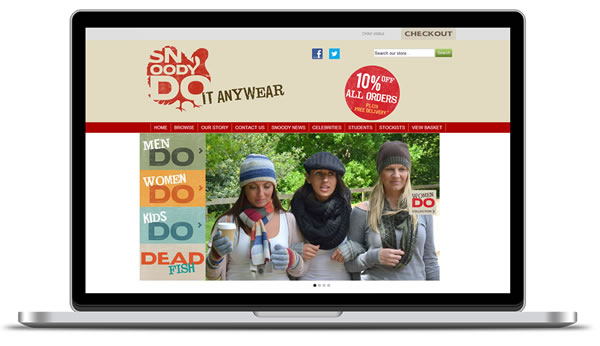 Update: This post is about an older version of the SnoodyDo website and the current site is not my work.
The Project: An ecommerce website for SnoodyDo, a new fashion accessories brand in the UK.
What We Did: Build and set-up an ecommerce shop using software from Ecommerce Templates and customise the design to include existing SnoodyDo branding. We also installed a separate content management system (CMS) for non-shop content and the site's News section.
Result: The website launched in September 2013 and is now being managed by the client.
We worked on the SnoodyDo website over several months with the client. Apart from the ecommerce aspects, we added a CMS for managing non-shop content like the Home page imagery and slideshow.
We chose Perch for the CMS because it has an easy-to-use interface and is ideally suited for managing slideshow content (using a template system derived from the web page HTML) which the shop software is not designed for.
The shop software, from Ecommerce Templates, is very powerful and allows for a wide range of configuration options, both in terms of the product display and purchase process and in the shop admin back-end. The website is integrated with PayPal and SagePay for payment processing.
The website is responsive which means that it displays nicely and works well on, for example, smartphones and tablet PCs.
We enjoyed working on the site and it's great to see the website now live.
Further Reading