Case Study: JM People Strategies website
28 August 2014 by Clive Walker in Work WordPress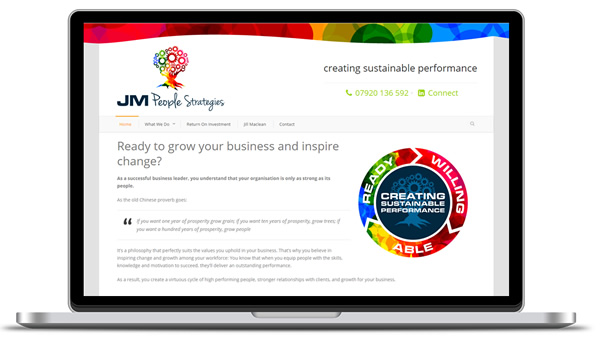 The Project: A website for JM People Strategies, a training and coaching consultancy.
What I Did: Design and build a fully content managed, responsive site following existing brand guidleines. The site uses WordPress, a modern and very popular website framework.
Result: The website launched in June 2014.
I worked on the website with Jill Maclean, the founder and lead consultant for JM People Strategies, through several iterations of content and a company name change part way through the process. WordPress is a very flexible system so changes of content were not a problem.
The company already had brand guidelines and I followed these in order to establish a consistent look and feel.
The site is responsive which means that it adapts to different screens and devices and displays nicely on smartphones and tablet PCs.
It was great to develop this site and I really enjoyed working with the bold and colourful branding for the company
Add a Response
This site uses webmentions. Responses are collected and displayed automatically. However, if you've posted a response and need to manually notify me, please enter the URL here.