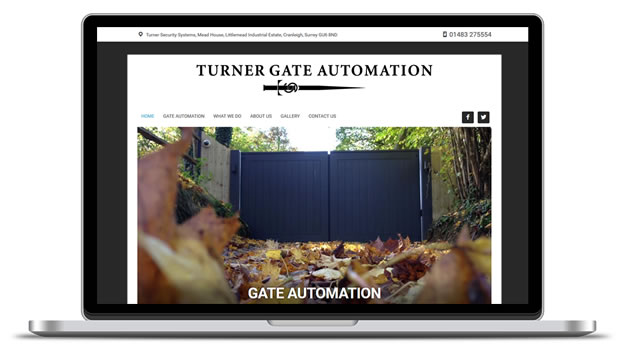 The Project: The development of a new website for Turner Gate Automation in Cranleigh.

What I Did: Manage the project. Web design and development. Install and customise WordPress, a website content management system.
Result: The website launched in September 2015.
Turner Gate Automation needed a website for their business and came to me because I worked with the company previously. The site needed to be fully editable by Turner's. An important requirement was that the site should work well on, for example mobile phones.

Design
The company had an existing logo and the website was designed to match the dark colour of their van fleet. At the same time, a balance between easily readable dark text on a white background and the logo/site background was created.
Web Development
I customised WordPress to create a website that used the design elements and showcased the company's gates with an attractive gallery. The contact details for the company are shown prominently at the top of every page.
Customisation of WordPress allowed the responsive layout to be built and tested within budget.
In Summary
Turner's has a modern website that is easy to update.
The project requirements meant that I could use my favourite WordPress framework. A project like this needs a completely different skillset and approach to web development than working on a site like Cloud 9 Care. I like that type of variety.