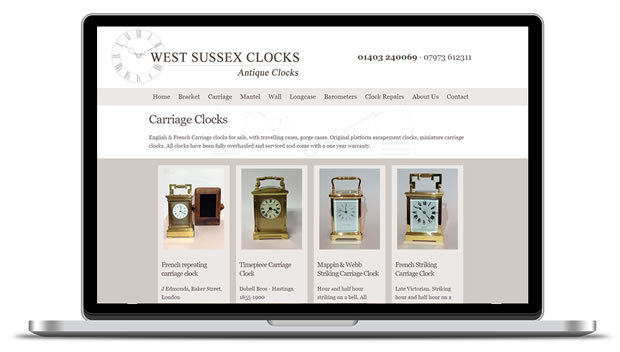 The Project: Design and development of a new website for West Sussex Clocks.
What I Did: Manage the project. Web design and development. Install an easy-to-use website content management system.
Result: The website launched in February 2016.
West Sussex Clocks sell and repair antique clocks from a site near Horsham, West Sussex. It's a specialist business in high demand. They needed a new site to replace a home-built website that was difficult to update. In particular, the new site needed to be easy to use so that new clocks could be added quickly every week.
Design
I designed the site based to give a clean and simple layout that used an existing clock face logo. The pages include a list and detail layout for each clock category.
Web Development
The site was custom-built and hand-coded to give a responsive, mobile device friendly layout. Templates for the Perch content management system were coded to give an admin interface where clock details could be added and changed via a simple editing page. This was very well-received and the client is now considering if they can use the admin area as a way of keeping a record of their stock, in addition to its use for keeping the website updated.
In Summary
This was a great project because it's a custom-built site that closely matches the client's requirements. The site and its admin area do not contain unused features that complicate the admin interface.
The final result is a modern website for a business that specialises in antique products. It's a great fit!