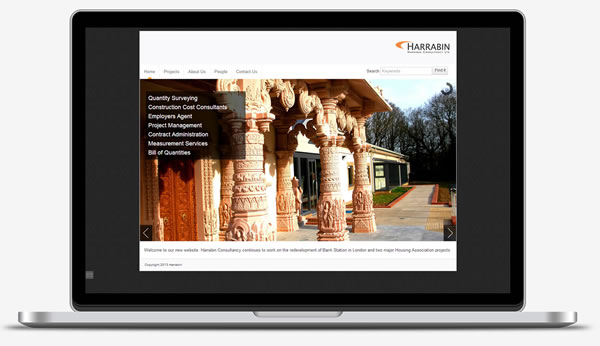 Last week, I was pleased to launch a new website for Harrabin Consultancy who provide quantity surveying, project management and consultancy for the construction industry from their offices in Crawley.
The website was design and developed over several months after planning and discussing the pages with Harrabin. It really makes sense to do this and plan a project from the outset.
There's quite a lot of imagery and information on the site so the client used Dropbox to share images and text with us before the work started. This gave both of us a better understanding of how to organise the site.
Content Management
The website is fully content managed which means that Harrabin can update any of the pages and sections at any time. For example, the Projects section features about 40 case study projects from different industry sectors.
Each project can have up to six images added and these appear in a sliding carousel display on each project page.
Images are automatically resized to the correct size (and this includes a smaller thumbnail image).
PDF documents for each project can be easily uploaded.
New projects can be saved as drafts before publication and existing projects can be shown or hidden at any time.
The order of projects on the list pages can be changed using a drag and drop interface.
The website home page has a slideshow with some large high quality images and any of these can be changed easily.
I think it's looking very good (but I would say that!) and other feedback has been very positive so far.
If you want to know more about website content management and how I can help you update your website quickly and easily, my website management page has more information.