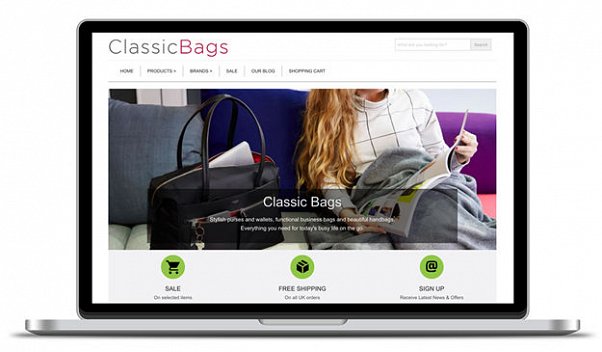 The Project: Web development and redesign of the Classic Bags website to make the site mobile device friendly.
What I Did: Manage the project. Web development and coding. Re-install content management system. Optimise the site.
Result: The new website launched in October 2016.
Classic Bags are a Horsham-based retailer selling purses and wallets, business bags, luggage and handbags from their shop and online. Their website was originally designed and built before the advent of mobile device browsing. Whilst, it still looked great, it wasn't as usable on, for example smartphones and tablet PCs, as today's websites.
Web Development
The site software (a content management system and an online shop system) was retained and the site was given a completely new look and feel with a more modern code base that is mobile device friendly. I worked with Ecommerce Templates (ECT) to redevelop the site around a a clean and simple design.
The work was approx. 50/50 split between me and ECT. I optimised the site and added more functionality after ECT had implemented the new template in parallel with the existing site. When ready, we switched the site over to the new design. All online sales were retained during the process.
Overall
There was more work on the project than planed because new requirements were identified as we went though the process. Ideally, website requirements are locked down before the project starts but that's not always possible so a flexible redevelopment approach is needed.
It's early days for the new site but it's getting more visitors and Google's feedback is good.